WEA class visit to Martin Mere
I have seen this many times before but years ago. The Swan Spectacular, really lives up to its name! A truly spectacular sight, noisy, busy and colourful. It is held 3pm daily outside the Swan Link hide, Sat 1/11/14 to Fri 27/3/14 Mar.  The swan feeds were Highly Commended in the Lancashire and Blackpool Tourism Awards 2009/10 for the Best Visitor Experience award becuase of the way you can see and be up close to thousands of migratory birds.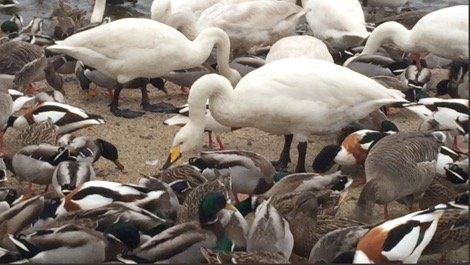 Enough of my words, I will let the birds speak for themselves!! I am just glad I do have have to pay the bird feeding bill!
One of the WEA students, CG, has written his own blog about the visit which had a bird species count of 39
For more information Martin Mere Wetland Centre