Queen tree bumblebees rarely miss an opportunity to use a bird nest box!
I had earlier in the year, prepped the blue tit nest box with nesting materials for the blue tits. However, the female blue tit definitely did not like my choice of materials! She wanted her own interior decor, to add a feminine touch I suppose! Or she may have thought that another female blue tit has laid claim to the nest box, put the material inside and she was having none of that! She wanted to claim the nest box. She started to remove it bit by bit, struggling sometimes with the amount she was carrying in her beak. She flew away with it and returned several times. This particular time just a few minutes earlier, she blocked the entrance hole up with the nest material as she was tugging at it to carry some away. This action did not go unnoticed by a queen tree bumblebee, who soon took the nest box for herself. I have had this several times now. A Queen tree bumblebee stealing a birds nest with nesting material. A case of  a prey item ousting a predator!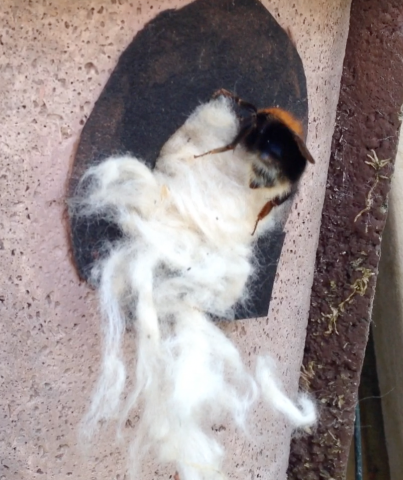 The material was now blocking the entrance hole completely. A female blue tit carried on removing it from the entrance hole for a short period afterwards but soon stopped, leaving the nesting material where it was and one very happy queen tree bumblebee inside the nest box!
This particular nest box was hugely successful in terms on queen bumblebees produced.
For more information about Tree bumblebees visit Bumblebee Conservation Trust
To record tree bumblebee sighting for researchers visit BWARS