Emerald Damselfly (Lestes sponsa) hunting, catching and eating prey in wildlife garden
Oh the joys of wildlife gardening! Bees, birds, hedgehogs, frogs, newts, butterflies, wasps, moths, dragon and damselflies! I was just looking at some wildflowers and caught this damselfly resting on a flower stem, growing in my new wildflower meadow.. more soon on that topic!!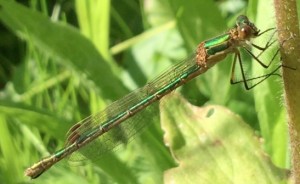 It left its perch and caught a small fly as it flew nearby. It returned to the same flower stem to consume its prey. I have wanted to film this for years!!
The BTO Garden Birdwatch Scheme have kindly made available a PDF leaflet  "Dragonflies in your garden" available to download written by the British Dragonfly Society.
For more information about dragon and damselflies or better still join them and help with their valuable work British Dragonfly Society, for more information.
With thanks to Pam Taylor BDS for identifying the damselfly.