Organic September and Nurturing Nature's small contribution.
As a Life Member of the Soil Association, I though I would do my small part in promoting Organic September.  A campaign to promote organic foods and drinks. I visited Daylesford Organic Farm. I felt I had to inform others about it.
I have visited many organic farms and shops over the years and will continue to do so. Occasionally you come across something rather special. Something rather uplifting and positively encouraging. This is undoubtedly the finest example of an organic farm and shop, I have ever visited. It was inspiring. Farming on almost 2500 acres of beautiful Cotswolds countryside. It was stunning. If you are visiting the Cotswolds, this place is an absolute must to visit. Remember, it is a working farm. You will be amazed. I still am!
I was quite simply blown away with my recent visit to the award winning  Daylesford Organic Farm.
More than a farm!
Farm Shop
In keeping with the whole ethos of Daylesford, the shop is simply top class. Selling their own range of top quality organic goods, such as meats, fish, chickens, home made products, including 'real meals', freshly prepared artisan soups, stews, and  bakery goods. Their own creamery has dairy products such as milk, cream and cheeses stored in their own 'cheese room' where you can go in and browse, (I have never been in one before!). Their larder stores freshly made organic jams, pesto, hot pepper jelly and more. All prepared at Daylesford from their own grown produce on the farm! They also have a homeware section and an organic wine and drinks section.
Cookery Courses
It is certainly not your average farm! It has an organic cookery school equipped with state of the art facilities and staffed by qualified chefs, who will teach you, hands on, about a whole range of practical cookery and artisan cookery courses. They even supply the chef's whites and aprons!
Bamford Haybarn Spa
A wellness retreat, next to the farm shop just oozes….er, wellness!! Its peaceful and calming. There you can reconnect with nature as you meditate, practice yoga or pilates. Followed by a facial and massage treatment. Wonderful!
Bamford Body Range
Their Bamford Body Range, as used in the spa, is all sourced by them and all made in England. These luxurious products are Soil Association accredited for bath, body and baby. Of course they made to the highest standards.
Clothing Range
Housed next to a neatly trimmed hedged courtyard with a fountain you can find a fine selection of the Bamford range of clothing, skincare, bath and body, for men and women, along with other products.
Cafe
After a busy time browsing the farm shop and all the magnificent shops and activities on the farm, their award winning cafe is also on site. Freshly picked fruit and vegetable from the organic market garden, which I visited just a short walk from the cafe, prepared in the kitchens to whet your appetite!
Holiday Cottages 
Next to the farm and also nearby in the village of Daylesford they own several Cotswold cottages. Here you can stay in comfort and relax, in these beautifully decorated and fully equipped, highly spec'd Cotswold cottages. A great place to stay after your organic cookery course!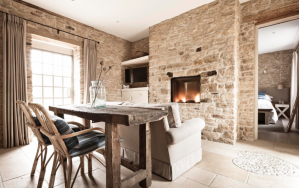 The Wild Rabbit
Like pub grub? Be prepared to visit something special! The Wild Rabbit part of the Daylesford group, won the prestigious Pub of the Year 2015 edition in the Michelin Eating Out in Pubs Guide. Just a few miles from the farmshop.
On line shop
If you cannot visit have a look at their on-line shop. They also stock top quality bespoke hampers! Some of their award winning products are sold by Ocado.
Hugely Successful British Business Model
I don't usually recommend places to visit, places to eat or other businesses. This however has to be an exception. Led by the inspirational Lady Bamford and her  team of dedicated people each responsible and passionate about their own areas of expertise, working together forming a formidible and successful team. I was very pleased with the fact that this successful team included an environmental scientist. As a business concept it has to be a showpiece of British Organic Farming and even British commerce. It is truly outstanding.
The range of goods, the premises, the organic farm and market garden, the food, the beauty products range, the natural clothing range, the wellness spa and gorgeous accommodation, all blend together, naturally!
Daylesford's has to be for me, one of the jewels in the British organic crown. Absolutely.
With thanks to Matt Gorman of Daylesford's for the film.