"Feeding Wild Birds" a talk by George Pilkington of Nurturing Nature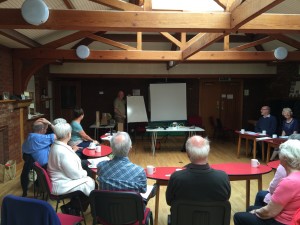 Sat 14th May 2016
Manchester Organic Gardeners were pleased to welcome George Pilkington again to speak to members at the May 2016 meeting. George spoke to the group last year about bumblebees which we thoroughly enjoyed. This time he spoke about "Feeding Wild Birds", just one part of the variety of talks George delivers as a part of "Gardening for Wildlife".
I am sure that the members wondered if a whole hour could be dedicated to the one topic, but George proved to be up to the challenge and delivered a lively and informative talk on the subject! His talk was chock full of facts as well as useful tips and advice, plus other related snippets of information.
George discussed what we should and should not be feeding to our wild visitors; looking at how to identify good quality seed and avoid the poorer seed mixes available. He also considered the best types of feeders to ensure that birds can access the seed and other food safely.
His advice also included simple steps to ensure good hygiene to avoid passing on infection between birds – in particular, Trichomonosis gallinae, (Fat finch disease) including a tip to ensure fresh water on a daily basis using a paint tray which can be easily changed and cleaned, and provides a shallow shelf for birds to stand on when bathing!
Using a mixture of short film clips, pictures and a white board, in an effective and enjoyable way George demonstrated clearly how we can best care for our wild birds helping their survival as well as providing enjoyment to ourselves when we share our gardens with these lovely creatures.
Once more an most enjoyable afternoon spent with our knowledgeable guest. We will be booking him again!
For more information about Manchester Organic Gardeners  or contact details here
For information about the BTOs Garden Birdwatch, a Citizen Science project