Nurturing Nature helping the Urban Pollinators Team to raise funds
Pledge just £20+ to enter prize draw…….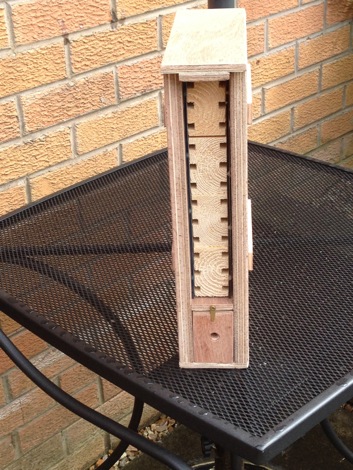 Nurturing Nature is providing a fantastic, award-winning Solitary Bee nest box (worth £64.95) that you could win if you pledge £20 or more! * towards a project run by the Urban Pollinators Team. It's alright reading books to see which are supposedly the right ones to plant for bees. For example, solitary bees in particular need much more pollen than honey bees, so which plants would be best to plant for them and other pollinators in your garden? There are few excellent books out there, actually based upon science. This project aims to translate real scientific data and produce it into a simple and easy to use app to download and answer that very question. Personally I think this is a great piece of work, that's why I've made my pledge and am supporting it. See video……
Come Dine with bee
The Urban Pollinators Project team have recently launched a new and exciting crowdfunding campaign called 'Come Dine With Bee'.  The project aims to find the best garden plants for pollinators by measuring the amount of pollen and nectar they contain.  The data from this will be combined with data we already have for the 200 most abundant native plants, to create a list of the most nutritious plants for pollinators. We will then be able to help gardeners and urban land managers boost populations of these hugely important insects by proving advice on the best flowers to plant for pollinators throughout the year. You can make your pledge from £5 upwards here
The Scheme is administered by WALACEA " Back science you believe in" with other wildlife science based projects seeking funding for research.
* All you need to do is email Nurturing Nature after you have made your £20+ pledge (http://nurturing-nature.co.uk/contact/), mention "Come Dine with bee" and ask to sign up to the mailing list – don't worry, you can unsubscribe easily whenever you want. You will then be entered into a prize draw and the winner shall be announced once the campaign has finished – but only if the fundraising target is met. Applies to UK addresses only! Nurturing Natures decision is final.