Out of sight not out of mind (or soil, compost, seed dressings, bulbs, top fruit, cereals, soft fruit)
Please don't think neonicotinoid pesticides have gone away just because there has been talk of a 'ban' – or because they (or bee decline) haven't been mentioned much in the media recently.There is actually no 'ban'…. there is just a 2 year restriction, on 3 of the pesticides, on certain flowering crops – and this isn't due to be enforced till December.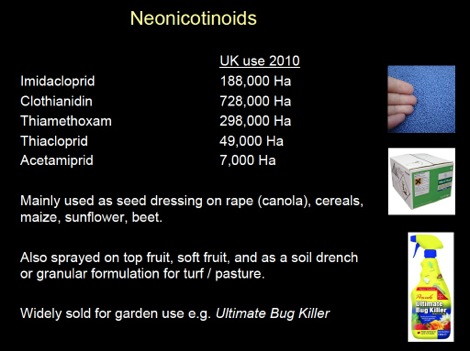 The restrictions won't go anywhere near far enough, but in the mean time the pesticides companies are taking the EU to court to try and overturn even this temporary restriction.
Neonicotinoid pesticides are killing bees and other pollinators in their billions and as long as they remain on the market things are only going to get worse.
Please stay alert and if you are buying spring bulbs ask about their provenance. If they come from Holland and are not organic they are likely to have been saturated in neonicotinoids and other pesticides.
Also, remember that neonicotinoids are not just used as seed treatments…..many composts are treated with them so that any plant that is grown in that compost will take them up through their roots… protecting plant from root to fruit.
And many of the neonicotinoid group of pesticides remain in the soil/compost for years.
Understanding the impacts of sublethal exposure to pesticides on bee health colony
Prof. Dave Goulson, Life Sciences University of Sussex, has put together a compelling argument….this may be too heavy for non academics, although the pictures tell the story!!!  It can be downloaded here 
I wrote this article below in Nov 2013……Update.. June 2014   See this video here with Prof. Dave Goulson and other scientists who are studying neonicotinoids affects as part of the Task Force on Systemic Pesticides
With thanks to British Bees Facebook for inspiration!!
"All my articles and videos, available free, are funded by my  teaching and sales of award winning bumblebee nest boxes, solitary bee boxes,  and wormeries. Please help by spreading the word and forwarding this link to your friends and colleagues. http://nurturing-nature.co.uk  Thank you!" George Pilkington