All my articles, videos and work are funded by my teaching and sales of award winning bumblebee nest boxes, solitary bee boxes,  and wormeries.
Having successfully survived hibernation, avoiding pests and predators, surviving inclement spring weather, finding enough flowers from which to feed and sustain herself, a red tailed bumblebee queen (Bombus lapidarius) has now succeeded in finding a suitable nest site. Probably some time in April to mid May and decided this was as good a place to build her own nest. Being high up on a fence would offer protection from some predators, such as the wood mouse ( Apodemus sylvaticus). Cute as they are with their large ears, huge eyes and small white patch on the chestnut brown coats, they are known to destroy the nests in search of tasty grubs, honey and even some bees themselves. An estimated 2/3rds of such nests in England may be destroyed by wood mice. Strange thing though, many queen bumblebees also are known to seek out old mouse nests to convert into a bumblebee nest!  Warm, dry, and safe from wood mice, a good choice for the queen bumblebee. But others are out there, soon to seek out and destroy the bumblebee nest……
These worker bumblebees were outside of the bird box nest early morning. Their job is to beat their wings to create a cool intake of air to flow into the nest itself. Many more workers were busy inside feeding young, building wax cells, cleaning cells and undertaking the numerous other tasks needed to thrive and survive. Note the speckles of yellow pollen grains around the entrance hole, brushed from the pollen baskets on the rear legs of the workers as they land.
Take a real close look at the wax moth larvae
Stranger at the door at midnight!
Occasionally on warm midsummer evenings I would go outside and shine a torch at the nest entrance hole. I would see a few workers just inside the hole, possibly on guard duty. Late one evening was a little different though. Just outside of the nest hole, as if waiting to creep in unnoticed, I saw a little insignificant brown speckled moth. It looked similar, in torchlight anyway, to the brown moth that you associate with clothes, the clothes moths….except it had, what could best be described as a prominent snout. I had, at last come into contact with the wax moth, (Aphomia sociella) a pest that had destroyed nests in my garden in the past. I did not expect it to be so small and to be honest, insignificant for such a powerful enemy of bumblebees.
To think, such a small moth can create so much havoc. Although bumblebees do have a sting,(except males!)  in the case of this small moth and the actions of the moth, it is virtually useless. It is to be hoped that they don't arrive in bumblebee nests BEFORE the resident queens have successfully reared the next generation of queens and males.
As the summer draws to a close, the busy bumblebee activity has died down. And so alas, have the vast majority of the bees. Only the young queens born here, have left, mated and will soon be looking for somewhere to hibernate. The front cover has been removed to find a snail that would find shelter here and food as well. Amongst the debris of the nest material, you may notice some white silken strands….
The wax cells, made by the bumblebees to store nectar and pollen and house the young bee larvae, have been completely destroyed. More strands of silk can be seen to the top right of the nest. A few live workers remained in this now dead nest and flew away unharmed, eventually to die in a short time. The  bottom left of the nest you will see a few white grubs with orange heads ….the culprits.
The silent but deadly killers !
The moth I saw that warm evening was a female wax moth, (Aphomia sociella, also known as the bee moth) a parasite of bees and wasps. It may well have been waiting its chance to enter the nest undetected, at night when nest activity is at it lowest. This is the only moth that occurs in bumblebee nests and is not to be confused with the lesser wax moth ( Achroia grisella) which is attracted to honey bees. It has been found to use artificial bumblebee nests placed in gardens more frequently than artificial nests sited on farmland. In a recent study, as gardens were found to have a higher nest density than any range of rural habitats and that those gardens provided suitable habitats, a continuity and wider variety of food for some bumblebees, then what is favourable for the bumblebees may well become favourable for the wax moth.
Using scent to target the nests
From June to August, the females moths actively seeks out its potential hosts, in my case bumblebees, it is believed by scent. Each bumblebee nest will have its own unique scent or smell and as occupants of that nest, the bumblebees born and living in it will also have the same smell, used by the bees to recognise each other and to distinguish themselves from intruders. Any insect that enters will do so at the risk of being attacked and killed by the resident bees. It does n't smell right…! Cuckoo bumblebees ( Psithyrus. spp.) have been found to enter  bumblebees nest and remain concealed in nest material for a few days without attracting the attention of the resident workers bees and also may possibly acquire the 'smell' of its hosts, so as to be adopted by them as being recognised as one of their own, before taking over the nest itself, by killing the queen (in most case) and laying its own eggs, which are adopted and reared by the host bees.
I can only assume that the wax moth I observed for several minutes at it sneaked around the nest entrance hole, on the several occasions I visited that evening, was doing something similar, timing its entrance so as not to be noticed and hence attacked. Once inside the nest, burying itself in the nesting material, or hiding somewhere else out of harms way and possibly gaining the scent of the nest as well. Either way, it lays its eggs.
Hastening the nest's decline
The female wax moth lays about 100 eggs in a cluster inside the nest. They hatch after a week or so. At first I noticed that, when small, they  lived behind the silk screen and move up and down it to feed safe from the bees. They are very active and can move forward and backwards very easily and relatively fast, something they would have to do if chased by bees inside the nest, (see later!)  Gradually, as they grow, they leave this screen and build silk galleries right in the heart of the nest itself, actually burrowing galleries through the wax cells. If they were found by the residents workers, they would either be removed or killed. It is likely that the caterpillars only move inside the tubes they spin for themselves, in and amongst the wax cells containing food. This would enable them to eat in safety undisturbed and also further acquire more of the nest scent as they rummage in the nest cells. The caterpillars have a vegetarian diet and feed on the old wax cells, detritus, pollen, nectar, and droppings. Then totally abusing the hospitality of their hosts (!)  very unusually for a moth species, they become predatory feasting upon the young bee larvae themselves and dead adult bees found in the bottom of the nest.
Once fully fed and developed they will crawl out of what is left of the nest, find shelter out of the nest debris and make even tougher silk galleries, gregariously, side by side, each gallery or tunnel containing one caterpillar, in which they overwinter. In another artificial nest I had, again attacked by the wax moth, galleries were made inside the wooden box, that once housed the bumblebee nest. I tried to remove them from the roof and walls of the wooden nest box and this proved very difficult. Not only physically trying to pull the strong incredibly tough silk from the wood,  but to take the larvae out of their tunnels. I had great difficulty actually ripping it apart. It was like trying to tear a soft cloth. It really did take much longer than I ever expected. They were fed to my wild birds!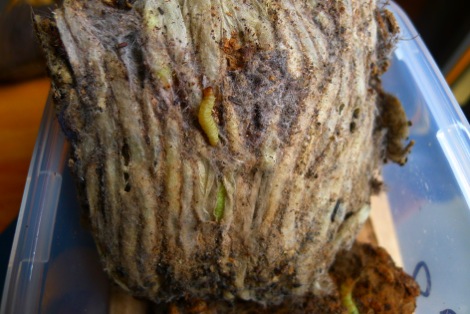 Wax moth larvae in their silk tunnels where they will stay overwinter till spring and emerge as adults
Control ?
I think it is difficult to stop the wax moth entering nests. This is exactly why, being fed up of these horrible larvae destroying my bumblebee nests,  I designed the award winning bumblebee  nest box with bumblebee cat flap and other anti pest control features. Almost 3 years or research, trials and tests. They have been sold all over Europe and N. America! As a result of a presentation I gave in Norway, Atle Mjelde, a well known and respected bumblebee biologist, from Norway wrote:
"In the design of the bumblebee box nearly everything has been thought of, so I can really recommend it. This is one of the very best bumblebee nest boxes I have ever seen. So if you only prepare the nesting material properly you have a pretty high chance to get a bumblebee nest in the hive. But you also need to have nest searching bumblebee queens in your area and place the box so the queens do find the nest box. Read the full review.
Artificial nests in gardens may be easier for them to find than a nest down a hole in the soil, or under a hedgerow, tussock of grass etc., in the countryside. I wonder it it is possible to perhaps try to mask the scent of the nests in some way? Perhaps spraying the outside with lavender oil, disinfectant or concentrated orange oil? Or laying some strong scented oils, mixed with water in a tray outside the nest? Something I will try IF I am successful in attracting a queen to nest. I am aware that scientists are researching the use of pheromones that these moths use to communicate with eachother and to atract mates. Pheromone traps can be bought in most garden centres to attract and catch males of the codling moth, which attacks apples. Perhaps something similar could be done for wax moths. Bearing in mind that without bumblebees there may well not be that many apples for the codling moth to attack in the first place!!!
Update. I tried all of the above and they all failed.
Read more articles about bumblebees.
Read more articles about the bumblebee nest box
See how my new bumblebee nest box thwarts pests including wax moth and has a  wax moth monitoring system build into it
For more information about bumblebees join the Bumblebee Conservation Trust.
Must see video
This has to be the best video of life inside a bumblebees nest ever!  You can see the wax moth caterpillars destroying the nest, cuckoo bumblebee laying eggs inside a nest and a lot more. Its just over 8 minutes long so go and make a brew to watch it. Although in German its very interesting and pictures say so much more irrespective of language!
 Refs: Besides my own observations and experiences;
Benton,T. (2006). "Bumblebees"HarperCollins Publisher, London.
Goulson, D. ( 2010). "Bumblebees behaviour, ecology and conservation" Oxford University press, Oxford.
Kearns, C.A. and J. D. Thomson. (2001)."The Natural History of Bumblebees: A Sourcebook for Investigations". University Press of Colorado, Boulder, CO.
With thanks to Laura Smith of             http://www.bumblebee.org/