Press Release Mercedes-Benz Commercial Vehicle Dealer Enza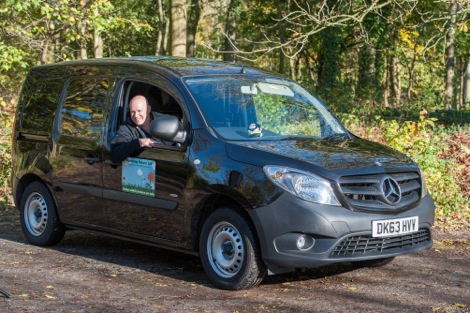 Nature's friend… George Pilkington and his new Mercedes-Benz Citan
Blue is the new 'green' for Nurturing Nature's Mercedes-Benz Citan
Award-winning activist George Pilkington is passionate about all things environmental, so his new van had to tick all the right 'green' boxes.  His choice: a Citan BlueEFFICIENCY from Mercedes-Benz.
Mr Pilkington's Warrington-based business, Nurturing Nature, has just taken delivery of its new vehicle from local Mercedes-Benz Dealer Enza. Powered by a frugal 55 kW (75 hp) 1.4-litre diesel engine, the Long-bodied Citan 108 CDI BlueEFFICIENCY is capable of a market-leading 65.7 mpg, and produces carbon dioxide emissions as low as 112 g/km.
Key to the vehicle's exceptional economy is its array of BlueEFFICIENCY features, which are designed to maximise mpg performance while reducing to a minimum its effect on the environment.
These include the ECO start/stop function, which automatically cuts the engine whenever the vehicle is stationary for more than a few seconds, for example at lights or in heavy traffic, then restarts it when the driver dips the clutch to move off. Other fuel-saving measures include low rolling resistance tyres, and optimised settings for both battery and alternator management systems.
"Everything I do is focused on the environment," explains Mr Pilkington. "So when I needed a van, I did my homework to find the most eco-friendly vehicle I could. The Citan is extremely fuel-efficient and fits my lifestyle perfectly – I especially like the start/stop system, as it's a constant reminder that the vehicle is doing its bit to reduce its carbon footprint.
"The BlueEFFICIENCY Citan helps immediately to portray the right environmental image wherever I visit, and is also a smart-looking and comfortable vehicle with a very useful load-space. Enza added some extra load restraint points for me to help carry my products safely. I was very impressed by the sales executive's attention to little details and determination to make sure my van was configured just right."
George Pilkington is a published author on environmental issues and presents environmental educational material and sessions to schools, colleges and groups including the National Trust, as well as leading guided nature walks.
Plan Bee… George Pilkington uses his Mercedes-Benz Citan to transport his award-winning bee nesting boxes
His company also designs and produces a range of award-winning nest boxes for native bee species, as well as worm composting bins. Last year Nurturing Nature's work was recognised nationally when the company won a prestigious Green Apple Award for Conservation and Wildlife, awarded by The Green Organisation and presented to Mr Pilkington at the Houses of Parliament.
"There's been a huge amount of publicity recently about the threat to nature and agriculture posed by a decline in wild bee populations," adds Mr Pilkington. "These educational wild bee nest boxes are one way that individuals and organisations can support wild bee populations and learn about their ecology. My Mercedes-Benz Citan is helping me to deliver my products efficiently and raise awareness of this important issue."
ends
For more information please contact:
John Ripley or Steve Warren
Impact Press & PR Ltd, 01789 491700
from: Mercedes Benz Enza Motors Commercial Vehicles