Join up and receive free beans seeds, see below. I already have!!
Bees, beans, and others in between.
Welcome to the blog for Bees 'n Beans, a study from theUniversity of Sussex that is looking into the insect pollination happening in gardens and urban green spaces. The project is due to start in April 2014, using volunteer help to see how busy the bees are in gardens and allotments all over the country.

With news and updates from the project itself, as well as information about bees and the urban environments they share with us, this blog will keep you up to speed on the progress of this study and how you can get involved.

We have a twitter at @LJBees – if you have a question, do give us a buzz!

There is also a little online survey of gardening plans, if you don't have time to do the full project but still want to contribute some data – here.
Why are we interested in your garden bees?Urban areas can be surprising havens for all sorts of wildlife, be it blue-tits feasting on leftover puddings, ladybirds overwintering in window-frames, or hedgehogs on slug-patrol in the borders. Gardens and allotments, with their carefully-maintained long periods of flowering, offer particularly important habitats, especially for insects and other invertebrates.

Pollination by insects is very important for many of the UK's major crops, and concerns about current declines in bee populations, along with their ecology and conservation, are increasingly common in newspaper headlines. But while the insect contribution to agriculture is being investigated, the role these same creatures play in our urban environments shouldn't go overlooked. Peas, beans, courgettes, tomatoes, apples, strawberries and many other garden favourites rely on insect pollination to some extent, and a loss of bees in gardens would be a huge problem as well.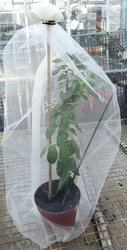 The idea behind this project is to do a simple experiment, measuring how much pollination activity bees are managing across the country, and see if anywhere seems to be running low. The project will compare:
• Plants that are covered in a fine net, to keep out pollinators.
• Plants that are hand pollinated, to make sure that all the flowers aredefinitely pollinated.
• Plants that are left alone, free to the attentions of the local insects.
Broad beans will be used as the experimental plant. They are easy to grow, and the dwarf variety to be used reaches an easily-manageable 50cm in height (rather than the several metres achieved by some of its ganglier cousins). The flowers are attractive – to both bees and the eyes – and easy to hand-pollinate; plus we will be providing suggestions with what to do with your tasty beans at the end of the experiment.
The number and weight of the pods harvested and beans within will be counted, and compared across the country, seeing how well bees are doing at their pollinating. There are a couple of other things to count as part of the experiment – keeping an eye out for which visitors are present, and if any of them are cheating at the role – but the bean measures are the most important.
Bee a part of it.This is a 'Citizen Science' project – which means we need your help! If you have a spare square metre or so of space, in a garden, allotment, back yard or even an open balcony, and fancy joining in with Bees 'n Beans, then let us know. The project is due to start in April 2014.

Each participant will receive a project kit, containing:

• Bean seeds

• Fold-down polythene pots (easier to post)

• A netting tube

• Instructions, a mini-identification guide, and a paper recording sheet. (These can also be downloaded from this website.)

You will need to supply soil (any compost will do), and sticks to stop plants falling over. The instructions will guide you through how to set up and what to do / when, and we'll be available to answer questions by email, twitter and phone if you have queries.

Signing up

The first step is looking at the demand for pollination with this short survey:

1. Growing Towns.

This has 10 general questions about your gardening plans, to see what sort of demand for pollination your garden is likely to have.

This would also be really useful if you don't have time to do the full project but still want to contribute some data.

2. If you are interested in taking part in the full project, the sign-up form is below (and if you can't see a form on this page, it is also here: Sign up form).