Bumblebee Nest Box
Each bumblebee nest box now comes with all the special bedding materials a bumblebee queen requires, the importance of which is greatly under appreciated, as well as access to a preparation video.
Bumblebee and solitary bee boxes manufactured in NW England.
Bumblebees using anti wax moth cat-flap – watch the video

 Prof.Dave Goulson's tweet Mar 2014 Bumblebee ecologist Sussex University
Review of nest box by Dr. C Moffat bumblebee researcher, Dundee University
The Nurturing Nature Deluxe Bumblebee Nest Box – Inspired by nature, driven by science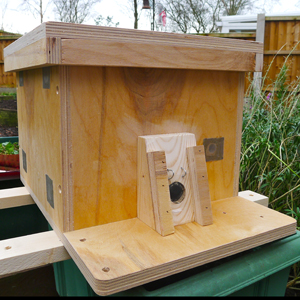 New stock with design improvements, shelter over porch…. AND painted.
Paint
I have listened to what customers would like and am pleased to say after trying several paint finishes, I decided upon Osmo. Now each bumblebee nest box is  painted with Osmo paint. Made in Germany, and with over 100 years of development, Osmo offers a natural and environmentally friendly alternative to wood finishing. Based on natural and renewable vegetable oils which penetrate deeply into he wood, which helps to keep the wood flexible and healthy preventing it from drying out and becoming brittle, allows wood to breath, enabling moisture to evaporate whilst providing a water and dirt resistant surface. It does not crack, peel, flake or blister. It is durable, prevents wood swelling and is UV resistant. It enhances the wood grain, the colour emphasises where the entrance hole is found and the light colour help to reflect the sunlight. Colours as shown may change.
Bumblebee nest box £70.00 including delivery to MAINLAND UK ONLY. Overseas charges apply. Contact me.
         MAINLAND UK ONLY 
Nest box includes full and detailed instructions, including red tint window, natural bedding, wooden batons, bumblebee cat flap, fine metal mesh ventilation covers and mouse excluder.
All measurements are approximate
Height with lid: 23.5cm
Length: 38cm
Width: 30cm
Empty weight 4.8.kgs
Nest chamber internal measurements
Height: 18cm
Length: 25cm
Width: 22.5cm
---
Contact for BACS payment details.
Cheque
Send a cheque for the full amount of the products you require to the address below. Make the cheque payable to Nurturing Nature Ltd.
Details required:
Products you wish to order
Full name
Address (including Postcode)
Contact telephone number
Delivery address (if different from payer's address)
Once your cheque has cleared your products will be sent.
Nurturing Nature Ltd, 28 Ringwood Close, Gorse Covert, Warrington, WA3 6TQ
T: 01925 452819
E: nurturing-nature@virginmedia.com
PLEASE NOTE: I cannot take orders over the phone
as I do not have a card terminal in the office.
---
Sales include support and advice 'surgeries'  by email or telephone regarding bumblebees and the nest boxes.
I am also available to give talks about bumblebees/solitary bees and their ecology. Please email me for details nurturing-nature@virginmedia.com or telephone 01925 452819 and leave your details.
Highly likely I will be out nature hunting or teaching!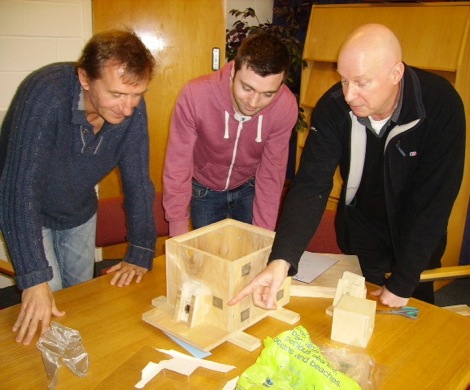 Prof. Dave Goulson, Stirling University, Anthony McCluskey, Bumblebee Conservation Trust and George Pilkington discussing the features of the bumblebee nest box at Stirling University.
---
---
Natural Brood Chamber Bedding
£5 inc p&p to mainland UK
See bumblebees working our natural bedding
---
Deluxe bumblebee nest box. Find out more about the research behind the Nurturing Nature Bumblebee Nest Box
Having owned many bumblebee nest boxes over several years with no occupation, I become dismayed at the designs of bumblebee nest boxes, the woeful supply of bedding, the lack of pest/predator features designed into them and the pro educational value of them. As the result of my frustration with present designs and a lack of success with bumblebees breeding in bumblebee boxes, which is acknowledged in the literature as a problem throughout the UK, I set out to see what could be achieved.
There are at least four ways of obtaining queen bumblebees for your nest boxes. One thing is for sure, there is much more to buying a nest box and simply putting it out into the garden hoping a queen will accommodate you! From an idea, to drawings, to prototypes and now produced, a nest box with a Registered Design, that closely acknowledges bumblebees and some of their pests behaviour which is now available for sale as a sustainable product.

The Nurturing Nature Bumblebee Nest Box is a high quality product, precision made, hand finished and manufactured locally in North West England.*
Read more articles about the bumblebee nest box
Research and Development
As a founding member of the wildlife NGO, the Bumblebee Conservation Trust, I became very concerned about the decline of bumblebees in the UK, the lack of public knowledge about their decline and a lack of educational resources available for the general public.
Recent research has found that bumblebees and solitary bee pollinators contribute more than honey bees, which it is well documented are themselves declining.
I have devoted considerable time to the study of scientific papers and practical experimentation to understand the ecology of bumblebees and trying to identify the reasons for their apparent lack of interest in using bumblebee nest boxes and to see if there are any solutions. I have experimented with bumblebee boxes that are available on the market and my own designs.
Obviously there will be many questions still to be answered about what exactly bumblebee queens are looking for in selecting a suitable nest site and ways in which we can help minimise attacks by pests, predators and parasites. I hope this will open the debate for other researchers both full time professionals and part time enthusiasts to study! As I learn more and experiment more, my articles on bumblebees will evolve with my learnings.
Read more articles about bumblebees.
"This is the Rolls Royce of nestboxes. It comes complete with all you will need, most importantly the nesting material. I have yet to see a better designed nest box"  from the bumblebee.org site
The importance of gardens and citizen science
Researchers have found many bumblebee queens emerging from hibernation and looking for nest sites to establish a colony, perish and do not succeed. Many factors affect this from happening, including a lack of nesting sites, when queens sometimes fight to the death for such an essential resource.
They also found that numbers in the countryside are declining but that gardens had a positive effect on the density of bumblebee nests, suggesting that gardens now provided a stronghold for bumblebees in an otherwise impoverished landscape. The positive influence on gardens on their population meant that the bumblebees could spill over at least 1km into surrounding farmland. Providing a bumblebee nest box at least gives queens more chance to establish a colony.
A recent report, emphasises the valuable contribution volunteers, citizen scientists, have made to science. This review suggests it is vital, not only do citizen scientists contribute to the professional body of scientific research, they also help to monitor our environment. This has enabled professional scientists to collate indispensable information which they may never have achieved alone. It has been provided by volunteers who by observing, monitoring and recording wildlife have, besides stimulating an environmental education and interest for themselves and others, enjoyed doing it!
Such enthusiastic volunteers may well add to this pool of knowledge by studying wild bees that nest in suitable nest boxes in their own back gardens, without disturbing the bees. For example, note how easy is it to observe the full life cycle of Red Mason Bees (Osmia bicornis) through large observational windows. Imagine the useful data that could be accumulated with the help of citizen scientists with bee boxes in their gardens.
---
*Although the Nurturing Nature Bumblebee Nest Box with optional extras (Reg. Design. 4020826) is made of FSC wood, it is made on a non-FSC accredited site.