Watch the bees! – new Orchard Solitary Bee Observation Nest Box  " Inspired by nature, driven by science"
All Nurturing Nature solitary bee observation nest boxes have been designed to provide optimal nesting requirements, optimal bee management and optimal educational opportunities. They are a hybrid between a 'closed cell' and a 'loose cell' cocoon management system, combining advantages of both systems. It allows you to choose which system. All of the cells can be completely disassembled, sterilised, reused and cleaned each season, making management of your bees much easier. Observation of the bees at work is easy, simply slide out the nesting unit.
This represents real value for money at a very competitive price
Passionate about environmental education, this new product was designed after the huge success of the single solitary bee observation nest box and several requests for a larger version. Improvements have been made based on bee's usage and observations, maximising the benefits for them. You can still view the bees at work, offer them more nesting cavities and learn more about their lives with the cocoon emergence box which comes fitted.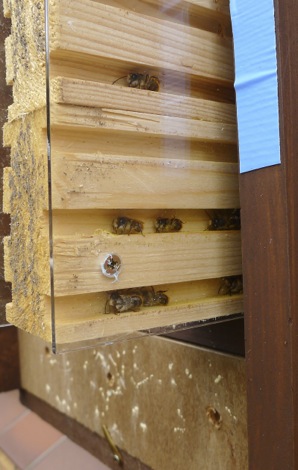 These male red mason bees are waiting for the females to emerge, spending cooler days and nights inside, patiently!
Greatly increase your pollinating solitary bee numbers
This design has the potential to greatly increase the numbers of cavity nesting solitary bees in your garden. It is also ideal for larger gardens, orchards, allotments, soft fruit growers, nature reserves, schools and anywhere else that would like to increase their solitary bee population or to educate people. There are 5 solitary bee nesting units, each with an observation window on each side and numerous well-spaced nesting holes to minimise search time and maximise numbers. The length of the cavities favours the laying of more females bees, which are more important than males who are only needed for fertilisation of the females.
Better for bees
The overhanging roof and recessed nesting units offer protection from wind and rain, important with mud sealed cavities and for leaf cutting bees. Easy to clean, reusable solid wooden nesting blocks, with sealed back ends, should give many years of usage. Easier to clean and manage than transparent acrylic tubes and being surrounded by mainly wood lessens the risk of fungal infections of larval food and thus the death of the bee larvae, as found in such tubes as time goes on. No more holes drilled into pieces of untreated wood, (encourages pests and diseases) no more bamboo canes to split,  no more reeds to collect and dry, no more paper or expensive cardboard tubes to replace allowing for easier management of the bees. The nest box works, beautifully! Detailed instructions come as standard.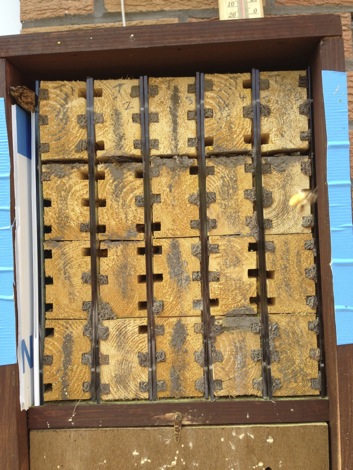 This prototype nest box had all of the available nest cavities in use and was full at the end of the breeding season.
Schools and nature reserves
Giving school children a 'real hands on' and practical engagement with science, this is a 'real value for money' educational product and would look well at any environmental/educational nature reserve.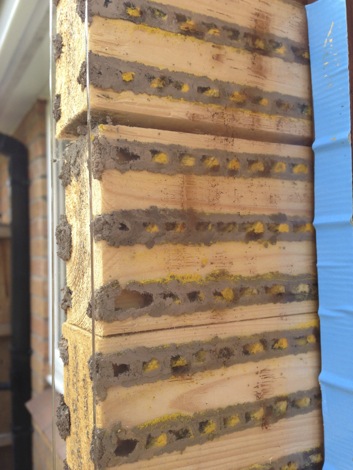 Watch as the bees work hard inside the nesting cavities. Numerous observational studies can be made along with other areas of the National Curriculum and offers interesting research opportunities. Nesting units can be bought separately.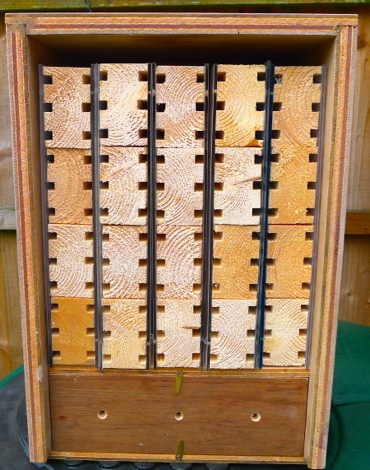 Sold out.New stock shortly.  Includes 5 complete nesting units and cocoon emergence box, (as above) boxed and delivered to mainland UK…….
nurturing-nature@virginmedia.com.  01925 452819
Friendly advice as ever comes as part of the service!
Collect yourself? More details? Give me a ring……Call 01925 452819
BACS
Contact for BACS payment details.
Cheque
Send a cheque for the full amount of the products you require to the address below. Make the cheque payable to Nurturing Nature Ltd.
Details required:
Products you wish to order
Full name
Address (including Postcode)
Contact telephone number
Delivery address (if different from payer's address)
Once your cheque has cleared your products will be sent.
Nurturing Nature Ltd, 28 Ringwood Close, Gorse Covert, Warrington, WA3 6TQ
T: 01925 452819
E: nurturing-nature@virginmedia.com
The solitary bee nest box is a Registered Design. Designed in the UK, hand made locally in the North West from sustainable and certified PEFC marine plywood.(Non-PEFC premises). Working model shown is a painted prototype. Does not come painted or include bees/cocoons!  Timbers and timber colours may vary according to supplies.
As with all my innovative products, I continually work on the further development of them all. Therefore please understand that I reserve the right to make design, equipment, materials and technical modifications.