Hurray! At long last! Bees of Great Britain published!!
Bees are a fascinating and indispensable group of insects, but many species are in decline, and efforts to help determine distributions and changes in abundance have to date been compromised by a serious lack of identification resources. This eagerly anticipated new addition to the highly acclaimed British Wildlife Field Guides series will unravel the complexities of identification, and is designed to cater for people new to the bee world as well as to more experienced recorders who wish to identify every species accurately. It provides the latest information on the identification, ecology, status and distribution of all 275 species of bee in Britain, Ireland and the Channel Islands.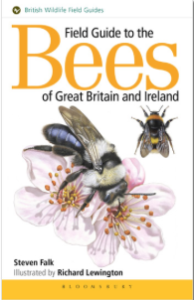 Written by Steven Falk, professional naturalist and conservationist with over forty years' experience of working with bees
Illustrated with over 1,000 colour and black & white artworks by Richard Lewington, one of Europe's leading insect artists
Stunning photographs of living insects as seen in the wild
234 up-to-date distribution maps
Comprehensive introduction to bee classification, ecology, field techniques and recording, a full glossary, and information on how to separate the sexes and distinguish bees from other insects
Introductions to families and genera, describing key characters and life histories
Detailed species descriptions covering field and microscopic characters, similar species, variants, flight season, habitat, flowers visited, nesting habits, status & distribution, and parasites & associates
A series of innovative illustrated keys to genera and species, designed to guide the user step by step through the identification process
An extremely useful resource supports this book by a special web site feature within Steve Falk's Flickr web site which furnishes extra photos and other useful resources to assist with identification.
Steven Falk, illustrated by Richard Lewington
RRP:  £ 35.00         Our price £ 30.00
Publication date: 5 November 2015       ISBN: 978 1 910389 03 4 (paperback)
Format: 216 x 135mm        Extent: 432pp
Illustrations: over 1,000 colour and black & white artworks and more than 700 photographs
Free delivery from British Wildlife.
Mine should be on its way!!!