Winter, Mahonia and bumblebees seem to go together!
I have heard many reports of Bumblebees working on Mahonia down south.  This is my very first sighting of them so early in the year here. There were two sections of mahonia, separated by several other bushes and trees about 30-40 yards apart . I saw no bumblebees working the other mahonia, they were all on this section. Each worker bee flew off in the very same direction when leaving. I assume the nest was very close by.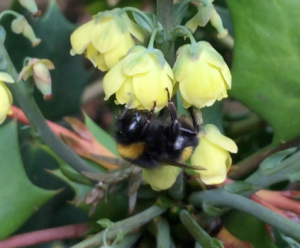 Scouse winter working bumblebee!
Download a BWARS information sheet "Winter active Bumblebees"
A recent paper refers to this behaviour : Winter active bumblebees,(Bombus terrestris) achieve high foraging rates in urban Britain
For more information about Bumblebees: Bumblebee Conservation Trust
Interested in Citizen Science and pollinators? The Buzz Club 
This is an interesting article Bumblebees Active in Winter 2015/16 by Marc Carlton