Wax moth, Aphomia sociella in the spotlight!
These moth larvae live inside nests of bumblebees and Vespula wasps! They are actually known as inquilines, i.e. they are lodgers inside their hosts nest, feeding upon the nest contents, including wax, pollen, nectar, debris dead bumblebees and live larvae. Unusual in that moth larvae are normally vegetarian.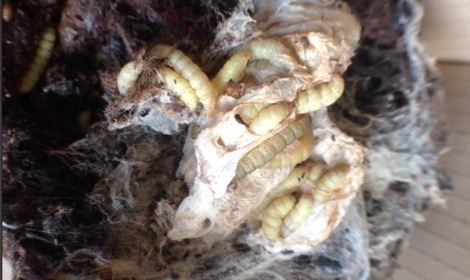 The moths are also known as bee moths to moth enthusiasts, or 'mothers' as I have heard them called! It looks like this moth has recently been introduced into the USA.
See more information about these dreadful lodgers that lead me to design my nest box!
"All my articles and videos, available free, are funded by my  teaching and sales of award winning bumblebee nest boxes, solitary bee boxes,  and wormeries. Please help by spreading the word and forwarding this link to your friends and colleagues. http://nurturing-nature.co.uk  Thank you" George Pilkington
For more information about bumblebees go to the Bumblebee Conservation Trust
For more information about bees and wasps…Bees Wasps and Ants Recording Society  BWARS