Red tailed bumblebees and other 3 bumblebee species mating
You don't often get to see bumblebees mating. Here I was lucky to be in the right places at the right times to film: B. lapidarius, B. hypnorum, B. terrestris? and B. pratorum.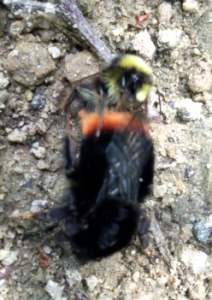 I had some strange looks from passers-by whilst filming this!!
The queen is rather luckier than many I have seen as she only had one mite on her that I could see. Sometimes bumblebees can be literally crawling with the mites, many of which are harmless. 
Other species filmed….
Possibly Bombus terrestris
For more information or of you wish to help bumblebee visit the Bumblebee Conservation Trust