Which cleptoparasite killed the leafcutter bee larva?
Around this particular nest box, used by leafcutter bees, I filmed 7 different solitary bee parasites. There are several suspects that killed the bee larva, though some can be eliminated from the investigation!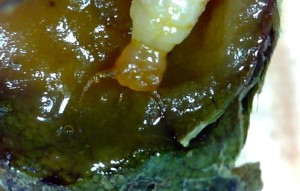 Monodontomerus wasps, Pteromalus wasps, Chaetodactylus osmiae pollen mites and Cacoxenus indagator fly are all not guilty! I watched a female Coelioxys cuckoo bee enter this cavity and marked where the cell was she entered on the glass viewing window.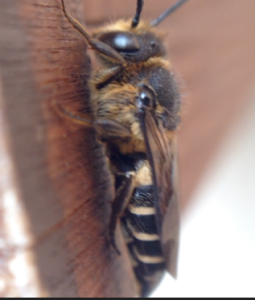 I was lucky with my timings as when I opened this cell it was pure good luck to find the formidable mandibles of the Coelioxys cuckoo bee larvae. It hatches before its host and is 'unarmed'  feeding on the pollen nectar mix.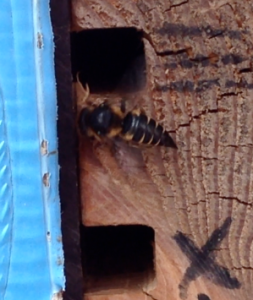 As it develops through its larval stages, The Journal of Apicultural Research states that it grows a strong mandible, which it uses to crush the egg, or kill its host or other Coelioxys larvae in the same cell. You can clearly see the fang like mandibles in the video. It can open them very wide which is useful when searching for its victim(s) in the dark.
The gruesome looking mandibles drop off after the 'deed' is done as they would prove almost useless when eating the nectar/pollen mixture. It therefore gets rid of the evidence! The lava becomes 'unarmed' once again, finishing its development inside the leafcutter bee cell. A leafcutter bee larva mandibles could not be used to kill another larva. They are better equipped to eat and drink the pollen/nectar mix, which contains much more fluid nectar than that of a red mason bee cell.
You may find this popular article about leafcutter bees interesting
A great visual guide for the identification of British Coelioxys Bees by the Amateur Entomological Society can be downloaded here
For more information on the above named species go to Bees Wasps and Ants Recording Society  BWARS
For info and link to buy an excellent book Field Guide to the Bees of Great Britain and Ireland by Steven Falk
An extremely useful resource supports this book by a special web site feature within Steve Falk's Flickr web site which furnishes extra photos and other useful resources to assist with identification.
Filmed using my award winning solitary bee observation nest box which made the film possible