Ivy bee, a rather new species heading northwards in Great Britain
Have you been lucky enough to see this new species of solitary bee which resembles a honeybee? They can be rather noisy!  Have look at the video.   The last bee to emerge in Britain during Sept and active till November. They emerge just when the ivy flowers. Keep a look out during these months next year!  Please help BWARS scientists to map its UK progress here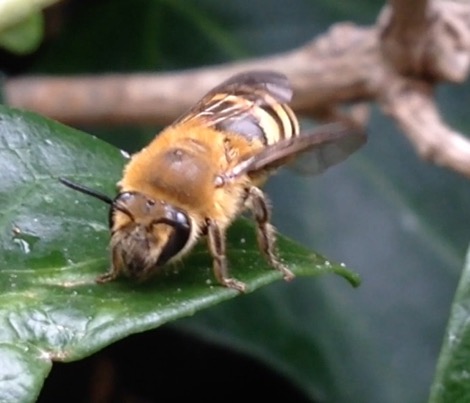 Colletes hederae was recorded as new to Britain in 2001 when Ian Cross discovered specimens at Langton Matravers in Dorset. Since then, the bee has spread across much of southern England (as far north as Shropshire, Staffordshire & Norfolk) and into south Wales. It is now extremely plentiful in some coastal localities, and increasingly, inland. Peak activity matches the flowering period of its key pollen forage plant, Ivy (Hedera helix), and the species is on the wing from early September until early November. This makes it the last solitary bee species to emerge each year. BWARS has been mapping the spread since its discovery in Britain 13 years ago.
See video of a very busy Ivy Bee nest site
With the right attributes some of you people may be lucky enough to attract these 'wasp like' bees to your wildlife garden to nest! I will have to wait some time I think! And no they will not nest in any of my nest boxes!!
For a BWARS Ivy Bee information PDF sheet click here
For a BWARS IVY Bee FAQ's sheet here
This site is down to earth and has some maps of its spread and lovely photos on it!
Hear a very interesting radio 4 programme about the ivy bees with entomologist Dr. Richard Comont on  Living World BBC