Our Hedgehogs are decling faster than tigers!
I'm sure you would agree whether you are a wildlife gardner or not, seeing hedgehogs roaming in your own garden is a pleasant experience. Unfortunately, they are rapidly declining. In the 1950's it was estimated there were in Great Britain, over 30 million. In 1995 there were an estimated 1.5 million.  In 2011 they have continued to decline by more than 25% perhaps even 40%.  This is bad and sad news. Most people only ever see dead hedgehogs in the road. The evidence now is very strong that hedgehogs are in trouble.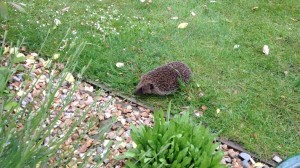 Many of us love hedgehogs and would welcome them into our gardens. So why don't we?
Reasons for decline?
Other than natural predation, e.g. badgers, the other reasons are mainly man made:
Loss of hedgerows, fewer rough field edges, pesticide use, fragmented habitats and loss of suitable refuges in urban habitats.
Hedgehogs need several gardens to roam and find food. One reason they have to go into roads is that they cannot pass from one garden to the next one. Garden fences or doors block their way. They have to leave one garden just to visit next doors! If they could easily pass from one garden to the next without venturing onto roads this would help them ending up as another road kill.
I still have 2 hedgehogs visiting my garden feeding station each night now for well over a month. I spoke to my neighbours and they have all now made entrances for hedgehogs to pass from one garden to the next, that's 5 gardens without crossing a road! On a recent local cycle ride I saw 3 dead hedgehogs in the roads.
Hedgehogs keep out!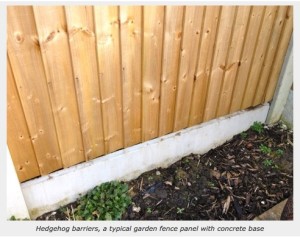 Gardens have become Hedgehog 'No Go areas'! I'm sure most people do not realise that concrete gravel boards are impenetrable barriers for hedgehogs, forcing them out into the street to visit the next garden. This forces them to walk further to find enough food, is time and energy wasting and potentially dangerous for our hedgehogs.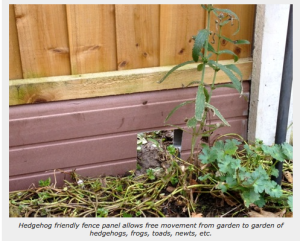 A simple hole cut into this replacement recycled plastic panel has ensured my hedgehogs can roam freely!
Nutritional hedgehog food
Cats were a problem when I started to feed them cat/dog food. Now my mixture is (all organic), muesli, rape seed oil, crushed almonds, sunflower hearts, crunchy peanut butter, dried mealworms, all soaked in hot water to provide moisture (although I have a pond 3 feet away!) drained and mixed to form a moist crunchy spread.   Hedgehogs absolutely love it! Cats pass it by! NB. No more bacon rind (salt)!!
Read more about hedgehog barriers
Contact  Eco fence panels who supplied the recycled plastic fence panel
Work by the BTO underpinned the "State of Britain's Hedgehogs 2011". Full report can be downloaded here
If you would like to help our hedgehogs, download these resources from Hedgehog Street
Below are a range of resources available for you to download to help you get your Hedgehog Street up and running.
Introduction Letter is a welcome and introduction to Hedgehog Street
Hedgehog Factsheets contain a brief introduction to the world of the 'hog. Great to give out to friends and neighbours
*NEW* Invitations can be posted through your neighbours doors in advance so they know about the project before you knock and talk to them
Step by Step Guidance contains ideas on how to get your neighbours involved
*NEW* Posters to put up around your town or village to encourage people to join in
Action Cards are a handy guide to improving your garden for hedgehogs
Hedgehog hole templates show the size of hole needed for hedgehog to pass freely – print out double sided and give to your friends and neighbours to help them with fencing modifications
Build a hedgehog house – instructions to build 3 different styles of DIY hedgehog house
Good luck and let us know how you get on by emailing hedgehog@ptes.org – your feedback will help us to continue to update and improve these resources…