New hedgehog feeding station 'feed and watch'
As with all of my product, this one has an educational aspect and is great for kids, who may only ever see a dead hedgehog in the road.  After several trials, this was designed (Registered Design) to enable people to watch and film their hedgehog visitors through a large observation window as they feed or drink.
It keeps the food dry and allows for a small receptacle to be filled with water and placed inside the feeding port. Alternatively a larger one can easily be left outside for the hedgehog to drink from. Hedgehogs need water as well!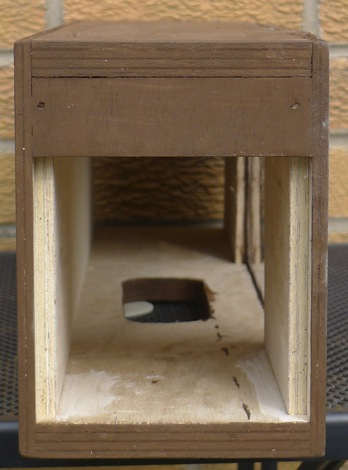 Hedgehog Feeding Station, side view and feeding/water port
The narrow entrance hole opens out into a larger area for feeding and drinking. The hedgehog can enter, turn around or leave from either side.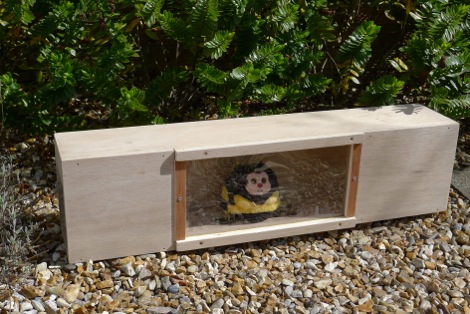 Ooops! I could not resist taking this photograph! The Hedgehog "Feed and Watch" station does not come painted nor is the cuddly bumblebee included!
The best way to see this new product in action is to watch the video…….Does it work? "Beautifully! As do all of my products!"
The large viewing window allows you to watch and film
Length 79cm
Height 20cm
Width 15cm            all sizes approximate
If you are in the area, ring, call and collect…price minus box £35.
Price delivered to mainland UK address £45 . I will donate £2 to UK based hedgehog trusts/societies for every box sold.
Other payment methods are available.
BACS
Contact for BACS payment details.
Cheque
Send a cheque for the full amount of the products you require to the address below. Make the cheque payable to Nurturing Nature Ltd.
Details required:
Products you wish to order
Full name
Address (including Postcode)
Contact telephone number
Delivery address (if different from payer's address)
Once your cheque has cleared your products will be sent.
Nurturing Nature Ltd, 28 Ringwood Close, Gorse Covert, Warrington, WA3 6TQ
T: 01925 452819
E: nurturing-nature@virginmedia.com
Currently made of PEFC certified Marine plywood for durability on non PEFC certified premises, hand made locally. Registered Design applies.