Foraging queen Bombus hortorums and their nests in my wildlife garden
I have had several Bombus hortorum nests in my garden nest boxes over the years. Every single one, including the two shown here, was  "wax mothed"! by Aphomia sociella. None had the protection of the bumblebee 'cat flap'. The first one shown in the video (2017) was unusual in the fact that by early June the wax moth larvae had already spun their gregarious silken nest site on the inside lid of the nest box. Early July when I cleared the nest out, I found there was simply no evidence at all of the wax pots, nest debris or anything else resembling a bumblebee nest. Even the dead bees you usually come across were not present.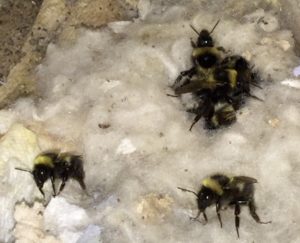 In the video, there were still quite a few workers in the nest and as they continued to team out and I decided I had disturbed them enough and stopped filming and just observed! The plants shown in the video are especially valuable for this species. Remember bumblebee queens need early spring flowers near their nests.  No flowers for queens = no food = no bumblebees later!
"All my articles and videos, available free, are funded by my  teaching, presentations, sales of award winning bumblebee nest boxes, solitary bee boxes, and wormeries. Please help by spreading the word and forwarding this link to your friends and colleagues. http://nurturing-nature.co.uk  Thank you" George Pilkington
For more information about this bee, BWARS
For more details about bumblebees, Bumblebee Conservation Trust
For info and link to buy an excellent book Field Guide to the Bees of Great Britain and Ireland by Steven Falk
An extremely useful resource supports this book by an extraordinary web site feature within Steve Falk's Flickr web site which furnishes extra photos and other valuable resources to assist with identification.
Interested in Citizen Science and pollinators? (e.g. bees!) The Buzz Club