A hidden work of art – a long tailed tits nest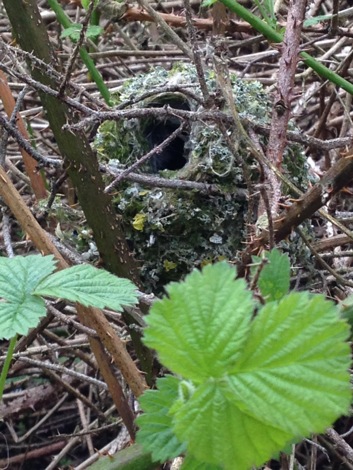 I found the birds about 10 days ago making this nest. It had no roof and I had no time to film them! I returned today. They were both out foraging. Soon it will be even harder to find…..
You may be interested in an article I wrote about their ecology called 'Long tailed tits, their nests and food choice', which has proved very popular.
"All my articles and videos, available free, are funded by my  teaching and sales of award winning bumblebee nest boxes, solitary bee boxes,  and wormeries. Please help by spreading the word and forwarding this link to your friends and colleagues. http://nurturing-nature.co.uk  Thank you" George Pilkington
If you would like more information about garden birds and their food choices go  British Trust for Ornithology (BTO) or better still join Garden Bird Watch and add your information and observations for scientists to update their research.