Hedgehogs feasting in my wildlife garden!
Hedgehogs have been visiting my garden since April. There were 2 adults followed by 2 hoglets later in the year. In the video, you will see how much the hoglets have increased in size.
Aug. 10. Not seen the 3 feeding together again since I filmed them, probably went their separate ways, although still having hedgehogs feeding but separately now.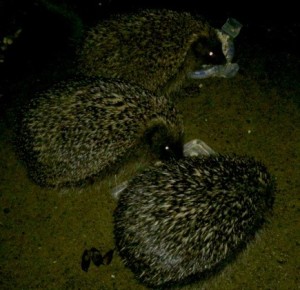 2 larger adults have been feeing together then followed by 2 smaller hoglets. I have not seen all 4 together, but did see 3 together, possibly mother and her hoglets, who have increasingly been visiting together without any adult. I have watched some of them drinking from my pond before their feast, especially after a day of hot weather. On duller days they tend to go straight to the food. Increasingly the hoglets will become independent and break away from their mother and eachother.
My hedgehog feeding station, designed to make life difficult for cats to enter, would be too small for these 3 large hogs now!!
Why use an organic food mix?
Many people use cat food, dog food or mince to attract hedgehogs. It simply attracts cats in my garden. My hedgehog food recipe is a mixture of organic ingredients: muesli, peanut butter, rape seed cooking oil, mixed with sunflower hearts and dried mealworms all soaked in hot water and mixed. Very easy and cheap to make, fresh every night. It smells lovely!! Organic food standards do not permit any hydrogenated fats, or unsustainable palm oils both of which can be found in peanut butter or cooking oils. My conscience is clear! Looks like they are thriving on it. They absolutely love it. Cats don't!!
You can see David Attenborough's film Hedgehog mating rituals- Life of Mammals here
Some useful advice Caring for hoglets
More information from the British Hedgehog Preservation Society
Make your garden hedgehog friendly with useful tips from Hedgehog Street