Solitary Bee Observation Nest Box
The Award Winning Nurturing Nature Solitary Bee Observation Nest Box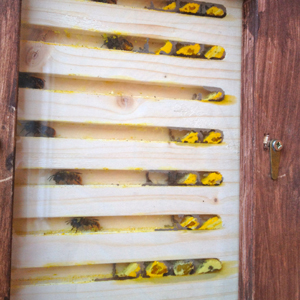 Award winning nest box         Great for schools.   Bumblebee and solitary bee boxes manufactured in NW England.
Sorry this is NOT a bee or bug hotel! It was specifically designed with solitary bees in mind. They will live in it for many months!! Many solitary bee/insect houses available are potential bee cemeteries for bees. I know from customers and presentation attendees, that they simply were not aware of any problems and would not have bought them. Removing the side doors allows you to study the bees at work. Later in the year you can study other aspects of the bees and their ecology, by simply taking the complete nesting unit indoors for research and viewing. They are great for schools, wildlife gardeners and nature reserves.  They allow for 'hands on science' lessons making it more interesting when teaching children about the life cycle of solitary bees without having to dress up and wear protection from stings! Albeit that can be fun!
Ideal for Red mason bees (which are highly efficient fruit pollinators)  leafcutter bees. with 6 species using them to date. Safe around children and gardens.
Ideal for researchers, which is a trap nest with windows to observe species and their natural enemies, which together are promising bioindactors for ecologiacal change or habitat quality. Adapted nest blocks can be used likewise for solitary wasps.
NEW IMPROVED DESIGN! Incorporating an emergence chamber. It is NOT a Bee Hotel!! Probably most comprehensive instructions available & details to adapt for Red Mason, leafcutter, other bees,  & harmless solitary wasps.
Solitary Bee Nest Box   " Inspired by nature, driven by science"
Painted solitary bee nest box with cocoon emergence box £70.00 including delivery to Mainland UK ONLY. OVERSEAS CHARGES WILL APPLY to the Channel Islands, IOM, Ireland, Scottish Isles, N. America, Europe and the rest of the world.
Now used by 6 solitary bee species, 1 Coelioxys cuckoo bee and its larva – watch the video

Payment can also be made via cheque or Bank Transfer, contact me for details.
Painted solitary bee nest box with cocoon emergence chamber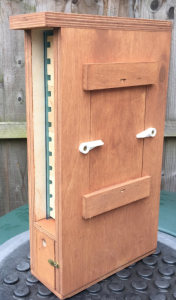 New to the UK…….Osmia Mason Bee and Leafcutter Bee Attractant
Developed by solitary bee scientists at the USDA, the patented Osmia and separate Leafcutter bee attractant took many years of research and testing. It was specifically made to attract Osmia species, using both lab and field trials. They extracted nest compound volatile chemicals, identified them and undertook various tests over a number of years. In the UK we have 12 species whereas in the USA there many different species of Osmia and scent marking is so critical that the masons bees' genus, Osmia, means odour or sense of smell. Researchers concluded that Osmia bees find nesting holes from scent pheromones and prefer to nest where other mason bees have nested. Likewise leafcutter bees scent mark their nest materials.
For years, I myself keep cocoons inside my emergence box and left the meconium deposited by emerging bees on the nest box, in the belief that meconium scent and sight may attract mason bees to their natal nest and may also attract passing masons. There was no science behind my doing this though! This research takes my beliefs to a much higher level!
LIMITED SUPPLY one bottle natural bee pheromone £7.99 each delivered to MAINLAND UK Only
Paint
I have listened to what customers would like and am pleased to say after trying several paint finishes, I decided upon Osmo. They are now painted with a high quality Osmo paint. Made in Germany, and with over 100 years of development, Osmo offers a natural and environmentally friendly alternative to wood finishing. Based on natural and renewable vegetable oils which penetrate deeply into he wood, which helps to keep the wood flexible and healthy preventing it from drying out and becoming brittle, allows wood to breath, enabling moisture to evaporate whilst providing a water and dirt resistant surface. It does not crack, peel, flake or blister. It is durable, prevents wood swelling and is UV resistant. It enhances the wood grain and the colour emphasises where the entrance holes are found. The light colour helps to reflect the heat of the sun. Colours may change from that shown.
Painted solitary bee nest box with cocoon emergence box £70.00 including delivery to Mainland UK ONLY. Over seas charges will apply.
NEW STOCK available now
Payment can also be made via cheque or Bank Transfer, contact me for details.
Nest box includes full and detailed instructions, four insect nesting blocks suitable for red mason and leaf cutter bees, with large viewing window on both sides.
For more information about solitary bees visit BWARS
Nest blocks:
Many Solitary bees prefer to use wood to nest in
Easily cleaned and removed from nest box casing
Nest box casing design and dead end cavities allows for additional materials to be added to minimise parasitoid wasps
Easily viewed for inspection and pest/debris removal
Absorbs excess moisture by wicking it away from moist pollen reducing likelihood of mould formation which destroys cells
Now incorporating an emergence chamber
Long term investment, natural resource, reuse many times over
Harvesting of cocoons simplified (kids love this aspect!)
With management has the potential to increase your red mason bee pollinators
The dead-end cavities are easily adapted to cater for different solitary bees and harmless solitary wasps
The cavities are designed to save the bees time and encourage more females
Allows 'loose cell' or closed 'cell management'
Widely spaced holes avoids high hole density nest finding confusion
Full detailed instructions and personal after care service.
"When people think of bees, they think of honeybees, but there are over 250 species of wild bee which are absolutely essential to the pollination our flowers, fruit and vegetables. Their natural habitats are declining, so by providing them with safe and comfortable places to nest in means we can better help them to help us."
New! Easy to use larger clips for window doors and emergence chamber 
Replace your old brass clips for these larger and easier to use clips and screws  (5 needed)
5 large door clips & screws £2.00 delivered to UK mainland. Please contact me as OVERSEAS CHARGES APPLY.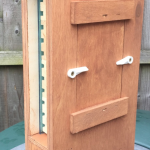 Other quantities upon request. This button for clips only
Read more here Orchard solitary bee observation nest box  for schools, orchards, fruit growers, allotments
Watch the bees! – new Orchard Solitary Bee Observation Nest Box  " Inspired by nature, driven by science"
All Nurturing Nature solitary bee observation nest boxes has been designed to provide optimal nesting requirements, optimal bee management and optimal educational opportunities. They are a hybrid between a 'closed cell' and a 'loose cell' cocoon management system, combining advantages of both systems. It allows you to choose which system. All of the cells can be completely disassembled, sterilised, reused and cleaned each season, making management of your bees much easier. Observation of the bees at work is easy, simply slide out the nesting unit.
 NEW STOCK colours may change
This offers real value for money at an extremely competitive price.
Why we may need solitary bee boxes in our gardens.
---
---
Made in Britain
The Solitary Bee Observation Nest Boxes, made in Britain, have 2 unique large viewing panels that allow you to safely follow the life-cycle of the bees with minimal disturbance to the animals. This makes the nest boxes ideal for schools, homes and environment centres.
Made from environmentally friendly FSC/PEFC certified wood (on non FSC/PEFC premises) these nest boxes are made to last for years. The nesting blocks can be reused many times and have been constructed for easy removal for cleaning and easy cocoon removal.
Great for Education
Great educational value! I taught my own children in the early 1990's maths, stats and graphs using mason bees! People are increasingly becoming isolated from nature, by urban leisure and modern games. There is a fear of insects, especially bees and wasps. Being docile and non aggressive, solitary bees are ideal in teaching children. Let children learn science in an interesting, real life, hands on way! These nest boxes are novel ways to stimulate interest and knowledge of solitary bees and wasps in Britain. No fiddly cardboard/bamboo tubes to carefully slice open and study the contents – simply just sit and observe!
Through the viewing panel watch solitary wasps carry paralysed caterpillars, aphids or sawfly to be stored inside the cavity as food for the larvae. See what different species or insects your nest box may attract and watch their secret lives!
A male Osmia caerulescens? inside the nest block