Wild Bee Nest Boxes
Bumblebee and Solitary Bee Nest Boxes "Inspired by nature, driven by science."
In the design of the bumblebee box nearly everything has been thought of, so I can really recommend it. This is one of the very best bumblebee nest boxes I have ever seen. So if you only prepare the nesting material properly, you have a pretty high chance to get a bumblebee nest in the hive. But you also need to have nest searching bumblebee queens in your area and place the box, so the queens do find the nest box.  Read the full review  By Atle Mjelde, bumblebee biologist, Norway

Prof. Dave Goulson's tweet Mar 2014 Bumblebee ecologist Sussex University
Bumblebee Nest Box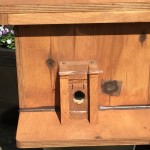 Read more about Bumblebee Nest Boxes only £70.00  p&p to MAINLAND  UK only contact me for overseas prices  
Contact me for overseas prices  BACS or cheque also accepted.
 New Stock coming soon.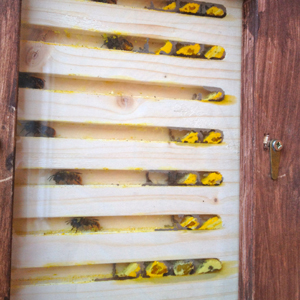 Read more about Solitary Bee Nest Boxes   See the new Orchard solitary bee observation nest box for schools, orchards, fruit growers, allotments
Available NOW
BACS Contact for BACS payment details. nurturing-nature@virginmedia.com Cheque Send a cheque for the full amount of the products you require to the address below. Make the cheque payable to Nurturing Nature Ltd. Details required: Products you wish to order Full name Address (including Postcode) Contact telephone number Delivery address (if different from payer's address) Once your cheque has cleared, I will dispatch your products.
Nurturing Nature Ltd, 28 Ringwood Close, Gorse Covert, Warrington, WA3 6TQ T: 01925 452819 E: nurturing-nature@virginmedia.com.