The Waste Buster Wormery for schools
Wormeries for schools, The Nurturing Nature Waste Buster Range of Wormeries
Many 100's sold throughout UK since 2000. 
please contact me for paypal payment details
National GOLD MEDAL WINNER in the Green Apple Award for Best Environmental Practice in 2001
The Waste BusterWormery is fun and easy to use, offering continual interest and fascination with free compost as a reward!
Why I designed and developed the Waste Buster.  

After using numerous plastic wormeries for several years, I decided that they were, for many reasons, in effect giving worm composting a bad name. I decided that there must be a better design and a better product in which to house the worms and harvest the worm compost. Something that was different, good quality, aesthetic and more importantly worked. And worked well!
I experimented with different materials, designs and harvesting methods. The result? The Waste Buster.
Designed and developed by myself, manufactured in Lancashire, England, using a natural product in which to house the worms, wood. Wooden containers eliminate the problems usually associated with plastic wormeries. The worms work and breed in a natural environment in a single large space.
I found children are fascinated by worms and decided that I would design Waste Busters with windows. "A Window into the underworld" as one little lad said to me profoundly as he looked at the worms inside !
"Without this book I would be a rubbish worm-keeper and recycler, with it I've gained great knowledge and kept my worms alive, recycled successfully, bred loads of babies…so many mistakes avoided thanks to this book."
Composting with Worms
Producing excellent worm compost, the Waste Buster Wormery is specifically designed to care for your worm composting process.
This is a perfect example of working with nature to allow it to look after itself, and us!
The WasteBuster Wormery keeps a more constant temperature than modern plastic wormeries, meaning you are less likely to have to replace worms lost due to sudden temperature changes and anaerobic conditions.
The Waste Buster Wormery ensures your worms won't get too wet and, as long as you feed them regularly with your waste scraps, they will have easy access to food.
Waste in, compost out!
Organic waste goes in at the top and the continuous system results in quality compost which is easily harvested  on a regular basis from the top of the wormery.
Prototype version shown. All models have an observation window – ideal for schools and outdoor education centres. The design allows for a continuous fresh air supply to the unit so smells do not accumulate.
Download the Waste Buster Wormery schools information sheet (PDF)
The Waste Buster Wormery is suitable for organic waste disposal, worm breeding and educational purposes. As with all wormeries these models need an initial inoculation of fresh worms. Above models are the older version.
"When I was working at Fellfoot park for the National Trust I was delighted with the service you gave us and the quality of the Waste busters They worked hard for us as the Tea room was busy and our little friends did a fantastic job converting the waste into compost. The public loved seeing them at work through the clear panel. Your advice and support was invaluable as this was a new venture for me. It is clear that you are passionate about Nature and have a good understanding of working in a natural way".
Jacqui Fereday. RSPB. Leighton Moss.
George, just a quick note to say how pleased I am with the wormery – perfect, the worms seem very at home in there. I knew how good the design was, but also very impressed with the quality of materials and workmanship. Thanks again for your help with this.
CS via email
New stock now in with improved features! 
The New Waste Buster Maxi Wormery – with free Composting with worms ebook.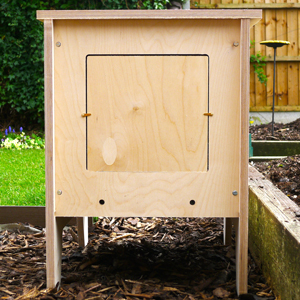 Composting up to 8kgs of organic waste a week the Waste Buster Maxi will reduce organic waste to landfill and provide quality compost, perfect for your plants.
Coupled with the Composting with Worms book the Waste Buster Wormery is the perfect way to reduce your waste and produce excellent compost for your garden!
Ideal for many households and big enough for larger families.
Size assembled approx Maxi H 63cm, L x 64cm, W 49cm 
 New stock now in with improved features!
New Waste Buster Super Maxi Wormery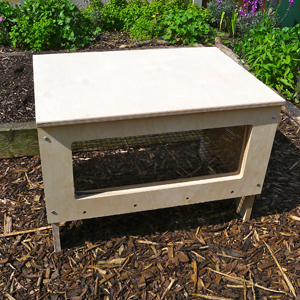 This larger model (as shown above) is ideal for schools, environmental educators, small catering outlets, smallholdings and B&Bs.
Organic waste goes in at the top resulting in quality worm compost which is harvested on a regular basis
Size: approx assembled with lid L 94cm  x W 67cm x H 64cm ( 37″x 26.5″x  25″)
Free Worm composting ebook
New stock now in with improved features!
  T: 01925 452819
E: nurturing-nature@virginmedia.com
New Waste Buster Worm Tower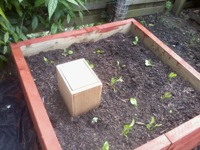 The Nurturing Nature Waste Buster Worm Tower houses worms in your soil as they feed upon your kitchen waste fertilising as they move in and out as well as inside the tower.
Placed directly into your flower or vegetable bed the Waste Buster Worm Tower works by allowing worms free-range in your soil. When organic waste goes into the tower worms break it down into lovely compost and spread it throughout the bed as they move around freely in their natural home.
All figures for organic waste processing amounts are a guide only. Every model includes operations manual & free delivery to mainland UK.
Now in stock   for prices: T: 01925 452819       E: nurturing-nature@virginmedia.com
please contact me for paypal payment details