Interview by Mercedes Benz MYVAN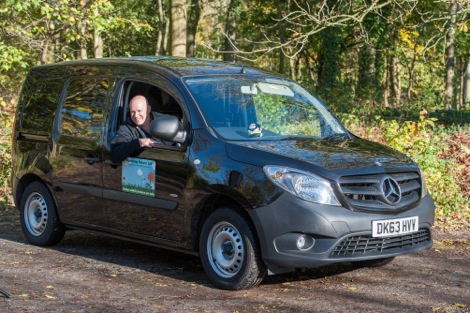 myBUSINESS
Green journey
by vanderful, posted February 13th 2014 11:05 AM
"Inspired by nature and proven by science", that is George Pilkington's motto and essentially also the name of his company. The nature-lover constantly comes up with new and creative ideas for gardening environmental products such as his own design for worm compost boxes: "I had bought number of compost boxes but they were all rather unsuitable. That is why I developed my own. The unique thing is they are made entirely of wood and use worms to make organic compost out of waste. The worms have the perfect conditions inside the box."
George Pilkington won the prestigious Green Apple Award for this invention. However, he not only designs worm compost boxes but also a variety of different hives for bees and bumblebees. Thanks to a window on each side one can observe the insects as they build their hive. George Pilkington transports his inventions with a Citan BlueEFFICIENCY. With two sliding doors, it is perfectly equipped for his needs.

The varied work of George and Nurturing Nature
From my solar cells to my own organic foods – I try to live as environmentally consciously as possible. I did not want to neglect this aspect when buying a vehicle", explains George Pilkington. The nature lover discovered the Citan on the Internet and was especially impressed with the low CO2 values: "There is no other vehicle the size of the Citan which is so environmentally friendly. That is exactly why I wanted to have the van immediately", says the Englander.
George Pilkington does not keep his discoveries about nature to himself. He offers courses for everyone who is interested in learning more about the environment and also writes guidebooks to pass on his tips.
All of his activities are motivated by his love of nature itself: "Nature constantly inspires me. All of the small events which happen every day in my own garden fascinate me", explains the environmental activist. However, George Pilkington not only constantly discovers new things about nature, but also about the new Citan – such as on his last tour: "During my last journey of 450 miles I noticed the first time just how comfortable the driver's seat in the Citan is. Even after such a long journey I was still relaxed – I have not experienced this feeling in any other vehicle."
Green Journey By Mercedes MYVAN article