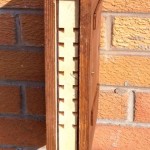 Deluxe solitary bee nest box affixed to wall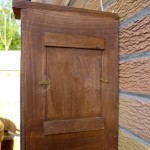 Deluxe solitary bee nest box. What does go on behind closed doors?
"All my articles and videos, available free, are funded by my  teaching and sales of award winning bumblebee nest boxes, solitary bee boxes,  and wormeries. Please help by spreading the word and forwarding this link to your friends and colleagues. http://nurturing-nature.co.uk  Thank you" George Pilkington
I suspect that not many people will have observed this aspect of solitary bee ecology. I also suspect it is an everyday occurrence for solitary bees. They have to find a suitable cavity, find food to provision it, find mud to make the cells, lay an egg, watch over the cell and fight to keep it. Keep watching and listening, after a bit of push, shove and biting, it gets much better! The cells in the cavity in question has not kept pace with the completed cells above and below it. Perhaps the original owner was killed or for some reason abandoned the passageway. Who is the 3rd combatant, the owner, a squatter, just an opportunist, a recent female ejected from her own cavity? What do you think? Watch the action as it happened. Possible because of the large viewing panels in the new deluxe Nurturing Nature solitary insect nest box…watch it on your full sized screen for better effect.
                Nurturing Nature "Bringing nature into your life"
Open the two large windows to observe the secret life of solitary bees, the least known pollinators of our food and flowers, such as leaf cutter bees and red mason bees. Watch red mason bees making mud cells, egg laying, pollen storing, the growth of their larvae, spinning of cocoons and even female bees fighting in the chambers!
Remove viewing panels for easy cleaning and allow removal and storage of cocoons. Optional extras include a cocoon storage box, which easily affixes to the underneath of nest box and interchangeable nest blocks to attract other solitary beneficial insect, such as harmless parasitic solitary wasps that feed their young on aphids or caterpillars.
Study and observe their life different and interesting life cycles with minimal disturbance.
Introduce school children to the magic of nature right before their very eyes!
Ideal for budding nature lovers at schools, colleges, your back garden and researchers.
Heavy duty FSC wood, sturdy and manufactured in the UK. Unique to the UK. Registered design.
Height 35cm
Width 13cm
Depth 23cm
Weight 3kg approx
See my new Registered Design award winning 
solitary bee box
 and 
bumblebee nest box
 both of which are radical, practical and educational, offering them a safer nesting environment in which you can observe the bees. Great for schools!
For more information about solitary bees and wasps visit BWARS
For more bumblebee information and to help save bumblebees join the Bumblebee Conservation Trust at Stirling University