WEA students visit a living piece of history-the Allerton Oak, Calderstones Park, Liverpool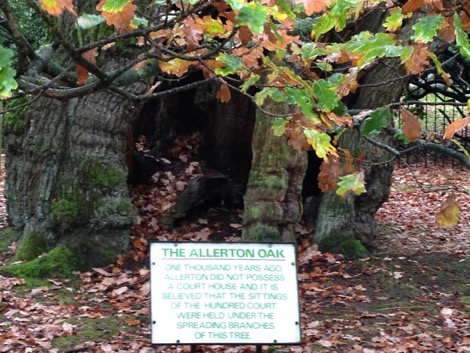 The Allerton Oak tree in Calderstones Park, Liverpool, has a sign underneath it which states, " "One thousand years ago, Allerton did not possess a court house and it is believed that the sittings of the Hundred Court were held under the spreading branches of this tree".
It was chosen from over 200 nominations across the country to count as one of the Woodland Trust's top ten short listed trees in England, along with a yew tree where Magna Carta is thought to have been signed and the ever famous 800 year old Major Oak tree, believed to have offered shelter to Robin Hood. After the public votes were counted, the winner of the England's Tree of the Year 2014 was the Major Oak in Sherwood Forest.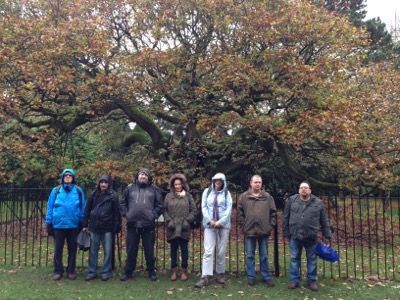 The WEA students are members of the Warrington Day Centre on a WEA Environmental Studies course which I teach.
Although it did not win first place, it is a magnificent tree and well worth a visit, likewise the interesting Calderstones Park in which it is found.
Here is an excellent piece written about the Allerton Oak by Bronwyn Jones, BBC North West
The Workers' Educational Association (WEA)
The above course was organised by the North West region. which itself is part of the National WEA. Come along perhaps there is a course for you!
The WEA was founded in 1903. It is a charity and the UK's largest voluntary sector provider of adult education. In 2013/14 we delivered 9,700 part-time courses for over 70,000 students in England and Scotland with classes in almost every local authority area and our work in England was assessed in 2014 as 'Good' by Ofsted.
With the support of nearly 400 local branches, 3,000 volunteers, 2,000 part-time tutors, of which I am one!, and our active membership, the WEA provides high quality, student-centred and tutor-led education for adults from all walks of life. We bring education into the heart of communities, helping people learn whatever they want – from maths, English and skills for employment, through health and wellbeing courses, to cultural studies that help students broaden their horizons and community engagement programmes that encourages active citizenship.
We believe learning is for everyone and learning is for life. It helps people feel that anything is possible. It can be life-enhancing and life-changing – improving health, self-confidence and creating positive changes that ripple out from individuals to communities.
We also have a special mission to reach those who want to improve their lives and communities. Education is a beautiful and powerful tool for tackling economic and social disadvantage because it raises aspirations and helps people create their own change. We campaign for adult education and whether you want to become a student, member, volunteer, tutor or partner, you are always welcome to the WEA.
So learn the WEA way – friendly, accessible education on your doorstep. You do not need any previous knowledge or qualifications to join most of our courses, only a willingness to share with others your curiosity, ideas and experience.