Hibernating peacock and small tortoiseshell butterflies in houses-what to do
I often am asked what is the best way to deal with butterflies found hibernating in houses. This may be of interest.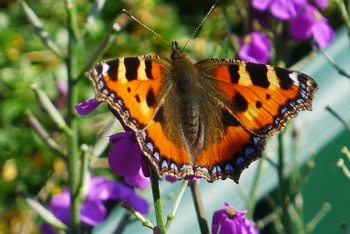 The small tortoiseshell butterfly may be found indoors overwintering
18 December 2012
The Red Admiral, which has become a common sight in British winters of late, doesn't enter a proper dormancy but becomes active on any suitable days.
Among the butterflies, it is only the Small Tortoiseshell and Peacock that regularly overwinter inside houses. They come in during late summer/early autumn, when it is still warm outside and our houses appear to provide suitably cool, sheltered, dry conditions. However, come Christmas, when the central heating is cranked up, such butterflies may be awoken prematurely by high indoor temperatures. This presents a major problem for the butterfly as the outside weather conditions may be very hostile and there is little nectar available in gardens.
It is a problem for the concerned householder too. How best to help these poor confused butterflies unwittingly tricked into thinking spring has come early. The best solution is to rehouse the butterfly into a suitable location. Catch the butterfly carefully and place it into a cardboard box or similar, in a cool place for half and hour or so to see if it will calm down.
Once calmed down you might be able to gently encourage the sleepy butterfly out onto the wall or ceiling of an unheated room or building such as a shed, porch, garage or outhouse. Just remember that the butterfly will need to be able to escape when it awakens in early spring.
If you have no options at all for suitable hibernation places, then it would be best to keep the butterfly as cool as possible, to minimise activity, and then to release it outside during a spell of nice weather.
with kind permission of Richard Fox Butterfly Conservation  Surveys Manager
See Also Heating and Hibernation by Butterfly Conservation
Have you heard the Peacock Butterfly anti predatory hiss with video?
I would also add that I have found many dead butterflies having over wintered in my garage and upon waking head straight for the windows. Usually spiders web abound around windows so early spring, clear away any new and even old spiders webs from such places. Even if there is no spider to prey upon the butterfly, they can die if they become trapped in the web.
If putting them inside another place, please ensure that mice will not be able to predate them.
Once safely inside a cardboard box it could be placed inside the top of the fridge, which would soon help it to calm down. Later place it as described above. You may find more than one in situ so deal with them accordingly with a larger box if necessary.
Don't touch the wings if possible.