Attending the Royal Entomological Insect Festival York July 15
I must say that it was one of the most well organised and engaging of the many such festivals I have attended. The organisers and volunteers were so helpful and friendly. It turned out to be the busiest Insect Festival yet, with many people attending of all ages learning about invertebrates and the RES itself. I met several hundreds of people at my stand and answered many questions. I also met many interesting and knowledgeable people! Thanks to RES for making a great day, at a great location. It was a real pleasure to attend. I look forward to the next one in two years time.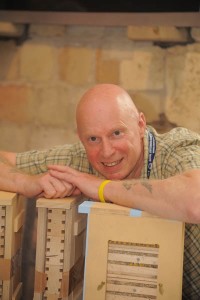 Notice the Red mason bee cells inside the Nurturing Nature solitary bee nest box!
Who are the RES? The aim of the Royal Entomological Society is "the improvement and diffusion of entomological science".  To achieve this aim the Society organises meetings for entomologists, runs events for the public, publishes academic journals and identification handbooks, and provides information for the public. The Royal Entomological Society coordinates National Insect Week (20 – 26 June 2016)
Photo coutersy of RES, with thanks.
For more details about RES contact Dr. Luke Tilley, Tel 07912180844  email:  luke(@)royensoc.co.uk