Useful pollinator research and resources
Want some easy to read scientific research about insect pollinators to download for future reference? I have selected the research areas solely relating to insect pollinators and given links to downloadable PDF's, with a line brief one line description for each PDF. Enjoy!
How are pests and diseases affecting bee pollinators?
Wild and managed pollinating bees are susceptible to a range of diseases that are being shared between species
Managing urban areas for insect pollinators
As town and cities continue to grow how can land managers help insect pollinators in urban areas?
Crop pollination by wild and managed insects: Why diversity matters
A diverse and abundant pollinator community is needed to maintain stable and high quality crop yields, as well as maintaining healthy and diverse wild ecosystems.
The benefits of managing pollinators for crop production
As demands on food production increase how can land managers, growers and policy makers help to conserve and manage insect pollinators?
What is causing the decline in pollinating insects?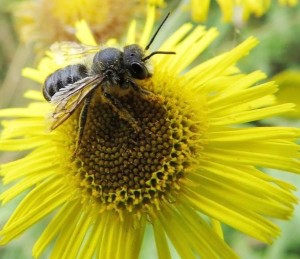 Some groups of pollinating insects, such as bees, have declined and research has revealed a range of different factors that appear to be involved.
For more Living With Environmental Change LWEC's Policy and practice notes covering other ecosystem services 
LWEC  is part  NERC   Natural Environment Research Council, Swindon, Wiltshire SN2 1EU   01603 591372
Fancy taking part in some simple science for researchers in your garden? Visit the Buzz Club
I can recommend Steven Falk's excellent Field Guide to the Bees of Great Britain and Ireland to whet your appetite!