From Academia to Sunday Times Bestseller! A Sting in the Tale
The frustrated Professor!
Prof. Dave Goulson is passionate about bumblebees. He is one of the UK's top bumblebee researchers and probably the world as well! However he was frustrated. Why? He enjoys his job which involves writing papers, journals and increasing knowledge about bumblebees. But the world of being a scientific researcher is very insular. The research is only read by the few dozen other bumblebee researchers in the world. They go away and follow on with their own research, read by the few dozen bumblebee researchers in the world, who go away and follow on…etc.!
What do you do when you are passionate about a topic and wish to enthuse people?
Although Prof. Goulson has written an academic book on bumblebees, he wanted to reach a far wider audience. So how do a few people reading scientific journals help with the conservation of the subject matter? His first such act was to set up the Bumblebee Conservation Trust. which members of the public could join. To reach the wider audience, he would need to be freed from the 'restraining shackles of academia speak'. This would allow him to enthuse and enthral readers with a heartfelt and personal account of his passion and engagement with bumblebees. He wanted to make it a popular read that anyone could read and find out more about these interesting and very important insects.  in this case bumblebees? By breaking from the shackles of academia and writing a book for the public and using humour. It worked. The book is a Sunday Times Bestseller. I thoroughly enjoyed this book, which did, beside surprising me in a few places, also made me laugh. It's a great book, makes a lovely gift and I can recommend it wholeheartedly.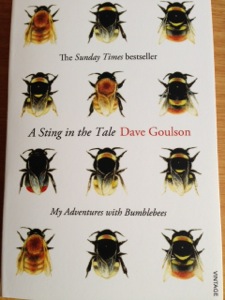 Read a Guardian review here. You can buy "A sting in the Tale" here.
Honey bees make honey. Bumblebees make summer!
Recently I helped La Hulma Suse man a bumblebee stall in Norway. Next to us was a honey bee stall. A lady was busy asking them about honey and honey bees. Then she came to the bumblebee stall. Looking around the stall she said "You know, I do n't know anything about bumblebees. Do they make any honey?". "Honey bees make honey. Bumblebees make summer!" was my reply! She now knows a lot more about bumblebees!