Soil Association AGM 2014
I have been a life member of the Soil Association for several years and never attended an AGM or one of their conferences. I think I will in future. It was vibrant, entertaining and hugely informative. We all eat food and I can wholeheartedly recommend the SA and the work they do to bring about quality food grown in tune with nature, wildlife, the environment and animal welfare. See their work here and if you can join, please do! I am so glad I went and feel privileged to have given a presentation and video, for which I received so much positive feedback. It was really nice meeting so many like minded and friendly people. Besides hearing Prof. Dave Goulson's presentation (scroll down to hear it) I obtained a copy of his new book, A Buzz in the Meadow. Thank you Gregg for helping with my stall. Thank you Soil Association!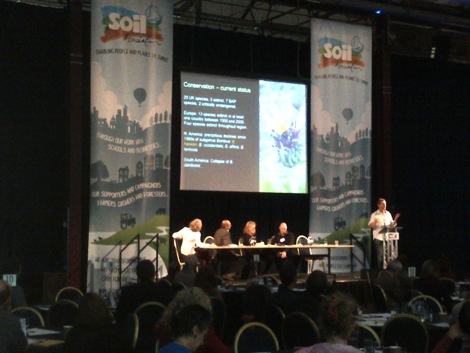 Transforming the way we eat, farm and care for the natural world
08-09 October, STEAM – Museum of the Great Western Railway, Swindon
Chaired by Farming Today's Charlotte Smith, our fantastic two day conference debated some of the biggest issues of the day facing our food and farming systems.
The conference was a great chance for all of us in the organic movement – producers, businesses, policymakers, campaigners, and public members, and anyone with an interest in changing our food system for the better – to get together and celebrate our successes and our common goals.
Session 1 – Keep Britain Buzzing: the latest science, politics and action to help save our pollinators
Professor Dave Goulson, Professor of Biology, University of Sussex on action and practical approaches to supporting bees and other pollinators
The decline of pollinators and the causes for this have recently been a hot topic of debate and the Soil Association has been campaigning hard. In this session, Professor Dave Goulson, one of the leading experts in the field will outline the latest science and politics – with a panel of people directly involved in field outlining action and practical approaches to supporting bees and other pollinators. As Dave Goulson outlines in his recent book: "Perhaps if we learn to save the bee today we can save the world tomorrow?"Professor Dave Goulson, Professor of Biology, University of Sussex
Steven Faulk, Entomologist, Buglife – The Invertebrate Conservation Trust
George Pilkington, Director, Nurturing Nature
Louise Payton, Policy Officer (Farming and Land Use), Soil Association
Catch up on what happened…
Listen to the audio from Day 1
Listen to the audio from Day 2
Take a look at what everyone was saying about #SAConf…
or try this Soil Association link