Nurturing Nature wins a Green Apple Award for Environmental Best Practice in the Wildlife and Conservation section, after competing against more than 500 other nominations and were presented with their Green Apple Award at a glittering presentation ceremony in the House of Commons on November 12, 2012.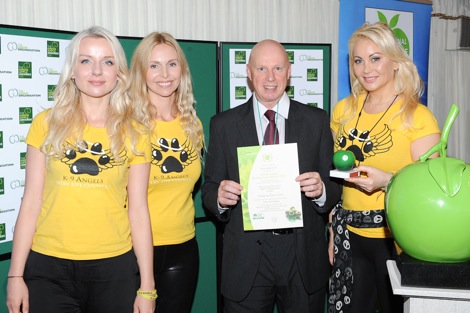 The award recognises work that involved many years painstaking observation and experimentation together with 2 years of research and development leading to the manufacture of a radical, practical and educational bumblebee and solitary bee nest boxes.
Environmental educator and author George Pilkington says:
"When people think of bees, they think of honeybees, but there are over 250 species of wild bee which are absolutely essential to the pollination our flowers, fruit and vegetables. They are declining as well as their natural habitats. Providing them with safe and comfortable places in which they can raise their offspring, means we can better help them to help us and learn about them in the process. Children find the nest boxes fascinating as they can watch the bees go about their daily work".
As a result of this success they have been invited to have their winning paper published in The Green Book, the leading international work of reference on environmental best practice, so that others around the world can follow their example and learn from their experience.
They will also be considered to represent their country in the European Business Awards for the Environment.
The Green Apple Awards began in 1994 and have become established as the country's major recognition for environmental endeavour among companies, councils, communities and countries.
The awards are organised by The Green Organisation, an independent, non-political, non-activist, non-profit environment group dedicated to recognising and promoting environmental best practice.
Judges for the Green Apple Awards are drawn from the Environment Agency, the Chartered Institute of Environmental Health, the Chartered Institution for Wastes Management and other independent bodies.
 The Green Apple Awards campaign was one of the first to be invited to become an automatic accredited feeder scheme into the European Business Awards for the Environment.The Green Apple Awards is still one of only a few schemes that meet the exacting criteria of the Brussels-led EBAEs, and several Green Apple Award winners have gone on to win European recognition in this way.