Want to know more about neonicotinoids?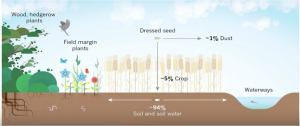 See Prof. Dave Goulson's presentation  "Bees, Pesticides and Politics: the impact of neonicotinoids on UK bumblebees ". Topics covered are many different species of wild and honey bees, the importance of bumblebees to crops, e.g. tomatoes, and wildflowers, factors affecting the decline of bumblebees, e.g. lack of habitats and forage for bumblebees, a quick worldwide tour of farms and roads with a bumblebees eye view?!, diseases/parasites spread by transporting honeybees and imported bumblebee nest boxes, (used by commercial tomato growers), chemicals sprayed on just one oil seed rape crop, fungicide toxic cocktails, pesticides, what neonicotinoids actually are and how they work, what their temporary ban actually means, how bumblebees can be exposed to them, their effects and sublethal effects on bumblebees and other wildlife, laboratory and field trials with bumblebees exposure to neonics, research papers, HM Government's and Defra's questionable stance and voting against the EU ban, research funded by neonicotinoid manufacturers, attempts to increase biodiversity with seemingly little effect, who benefits from our subsidies and more! Go get a brew or two for this hours informative and at times entertaining presentation by a passionate bumblebee expert and champion!
The second Annual Plymouth Linnean Lecture was held on Wednesday 18th March 2015 at Plymouth University by Professor Dave Goulson and presented  jointly by Plymouth University and the Linnean Society of London.
With permission and thanks to Prof. Dave Goulson.